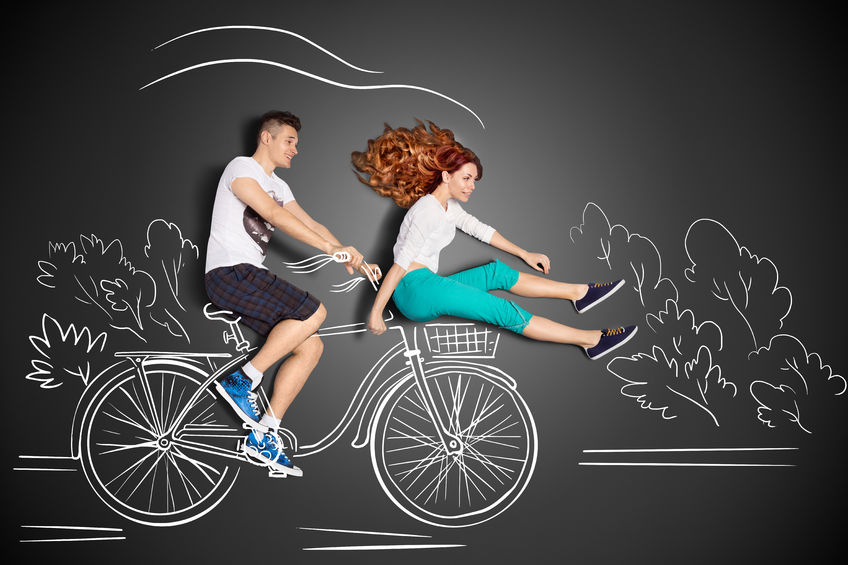 May is here and it's National Bike Month.  Sponsored by the League of American Bicyclists, it is a tradition that has been celebrated throughout the United States since 1956.  In Harris and Montgomery Counties, the dates are listed below for the events.  Nationally, the third week of the month is designated as Bike to Work Week.  Bike to Work Day is designated the third Friday in May.
In celebration of National Bike Month, Ron Voyles & Associates encourages you to give biking a try.  It's a perfect time to dust off that old bike, air up the tires, and take a spin.  In addition, we would like to inspire motorists to keep a watchful eye out for bicyclists on the road.  Educate yourself on the dangers of distracted driving, texting and the direct effect on cyclist injuries and fatalities.  When it comes to car and truck crashes, cycling injuries, and deaths, both sides (motorists and cyclists) like to point the finger at the other group.  We both share the blame.  In the Houston, Conroe, Huntsville, and surrounding communities we have hundreds of thousands of drivers and thousands of cyclists on the road every day.  Making sure everyone knows the rules of the road can go a long way toward reducing the number of injuries suffered each year.  In the Houston area alone, we've had twenty-three bike riders killed in the last five years.
I typically avoid cycling on the road.  Why?  Montgomery and Walker Counties are still rural with only two lane roads in many places.  Many roads like Longmire in Conroe have no shoulder.  Therefore, the space between you and the vehicles is slim.  Your margin for error is narrow.  To further the problem, we live in Texas.  It's hot.  Therefore, riding early in the morning is necessary.  It's dark.  It's foggy.  It's early and drivers are not paying attention.  In a bicycle-vehicle crash, the bike is going to lose.  So, what can you do?  Bike responsibly. 
Wear a helmet with a proper fit so that you're protected.  It's your head, right?  Protect it.  Follow the rules of the road.  All states, even Texas, require bicyclists to follow the same rules on the roadway as the motorists.  Crashes from a fall are bad enough, bike crashes with vehicles can be deadly. So, try and prevent bicycle-vehicle crashes.
Ride a bike that fits.  If the bike is too big or too small it can be harder to control the bike.  Make sure your bike is in proper working order.  This includes not only the chain and cassette but also the brakes.  Wear bright clothing with reflective gear if possible.  Have reflectors on your bike or better yet, get one of the new pulsing LED lights to alert motorists.
Finally, be aware of what is around you.  With many of the trails in the area currently closed, including Double Lake Recreation area and Huntsville State Park, more riders are going to be forced out onto the roadways.  Focused and alert is the only way to ride.  Watch the traffic around you and anticipate what drivers may do ahead of time.  Drive with the flow, or in other words, the same direction as traffic.  Obey the street signs.  Assume that you are invisible.  You may be in a vehicle's blind spot. Look out for road hazards.  Above all, whether you are in a car or on a bike, don't text, listen to loud music, or do anything that takes your mind off your surroundings and traffic.
Here are a few of the events for Bike Month in Harris and Montgomery Counties for the month of May, 2017.
May 12, Bike to Work, NASA
May 12, Bike to Work, Sugar Land
May 12, Bike to Work, Texas Medical Center
May 13, Mountain Bike Rides and Clinic- GHORBA holding a skills clinic in the George Mitchell Nature Preserve
May 17, White Oak Bayou Trail
May, 18, Bike to Work, Energy Corridor
May 19, Bike to Work, Houston Downtown
May 19, Bike to Work, The Woodlands
May 20, Bike the Woodlands Day
May 25, Bike Month Finisher Party
Ron Voyles is an attorney and a chiropractor with over twenty years of experience in the litigation of personal injury and the defense of drug and alcohol crimes.  Ron practices in Montgomery, Harris, Walker, Grimes, Madison, and Leon Counties.