"How Did My Vape Pen Land Me a Felony Charge?" And Other THC Related Questions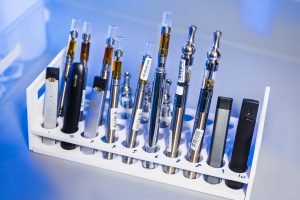 The advent and mainstream use of CBD products, changes in the legislature and Travis Scott have normalized marijuana usage and desensitized Texas high schoolers and young adults to the criminal consequences of some products. Gummies, wax, and vape pens aren't your parents' blunts or joints. And partly the reason you were charged with a felony when you were arrested in Montgomery County with your vape pen. But, why is that really?
A vape pen is a compact, on-the go vaporizer that resembles a pen. Otherwise known as a dab pen, wax pen, or vaporizer, it uses cartridges to produce a vapor from an oil that can be inhaled by users. Cartridges can contain nicotine, CBD or THC oils. THC oil contains tetrahydrocannabinol, which is a Penalty Group 2 substance.
Traditionally with a blunt or a joint, the weight of the marijuana alone would determine what class of misdemeanor or felony the accused would be charged with. However, the presence of tetrahydrocannabinol oil automatically makes it a felony offense. Legally, it's considered a completely different drug than marijuana. In fact the Health and Safety Code defines it as:
"Tetrahydrocannabinols, other than marijuana (emphasis added), and synthetic equivalents of the substances contained in the plant, or in the resinous extractives of Cannabis or synthetic substances, derivatives, and their isomers with similar chemical structure and pharmacological activity such as…"
The punishment range is as follows:
Less Than One Gram

State Jail Felony

6 Months to 2 Years in the State Jail; and,
Fine up to $10,000.

One Gram to 4 Grams

3rd-Degree Felony

2 to 10 Years in the Texas Department of Criminal Justice Institutional Division; and,
Fine up to $10,000.

Four Grams to Four Hundred Grams

2nd-Degree Felony

2 to 20 Years in the Texas Department of Criminal Justice Institutional Division; and,
Fine up to $10,000.

Four Hundred Grams or More

1st-Degree Felony

10 Years to Lifetime Imprisonment the Texas Department of Criminal Justice Institutional Divisional; and,
Fine Up to $50,000.
What about edibles? Gummy bears, brownies, and lollipops in theory sound so much better when you add THC. However, those gummy bears could lead you to the same level of charge as someone charged with possession of a brick of cocaine depending on the concentration and your criminal history. If you find yourself in this situation, make an appointment with my office and we'll discuss your options.